"Dancing Together" | Special Needs & The Art of Dance
This is a program that is near to the heart of Michelle and the many staff, students, and parents that support and participate in the Special Needs dance classes and Spring Production at FDA.
I remember the year that Michelle's desire to share a special needs camp and what was then a Friday class came to fruition. She grew a passion to provide and include this class and invited the FDA community to participate. Dancers became dancer's aides. The FDA community of parents and supporters contributed to set up and costuming. And families came and joined in learning movement and dance techniques.
As a 10+ year participant at FDA, I enjoy seeing all of our dancers grow year over year, but this class is consistently a recital standout with some of the BEST costuming and fun and creative dance movements. Being able to share a love of dance with all ages and abilities makes me enjoy being a part of Forest Dance Academy.
By Ivie Lilly
Special Needs Class Description:
This extraordinary program offers children with special needs the opportunity to explore the art of dance. They will experience movement and music while they discover how to move their bodies to the rhythm. The students will study various genres of dance such as Ballet, Tap, Jazz, Musical Theatre, Tumbling, and Hip Hop. Our faculty and assistants work hands on with these amazing dancers alongside any of our dancers' aides or family members to ensure a safe and healthy learning environment. Various styles of choreography are incorporated via dance techniques, games and movement exercises into the theme of each class.

https://forestdanceacademy.com/classes-we-offer/
Checkout this article covered by the local Lynchburg News…
Forest Dance Academy holds "Superheroes" dance recital
https://wset.com/news/local/forest-dance-academy-holds-superheroes-dance-recital
FOREST, Va. (WSET) – A very special performance was held at Forest Dance Academy on Thursday. Children with special needs performed a dance recital. This is the second year of the camp. Michelle Thomas, the owner, says she does it to give kids an opportunity to do activities they normally can't. It's free to help parents who have a lot of medical bills to keep up with. And this year's theme was super heroes. "We've talked this week about how heroes can come in many shapes and sizes, from police officers to these kids having said their doctors are superheroes and of course their parents as well," said Thomas, "in my mind these kids are superheroes." Thomas hopes in the future to incorporate special needs dance classes throughout the year.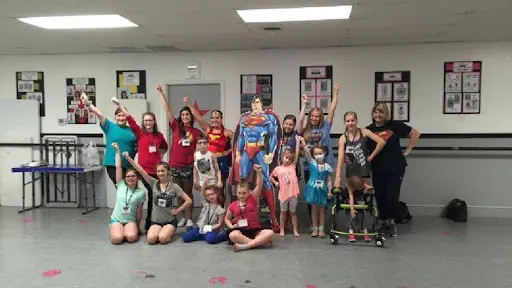 All of the kids in the Superheroes dance recital on Thursday (Photo: Tammie Woodall) by Elizabeth TyreeThursday, June 9th 2016